Free Hail Damage Inspection:

Hail can damage your roof, don't let it
damage your finances. We offer free damage inspections and estimates.
We also offer an advertisement
credit towards your deductible.
In many cases you will get a free roof!
Call us if you suspect you have storm damage,
or if you need a free estimate.
Please keep in mind:
Free inspection/ estimate

+ Free credit for advertising

= "FREE ROOF"

**depending on amount of deductible,
depreciation, and total amount of roofing costs
–––––––––––––––––––––––––––––––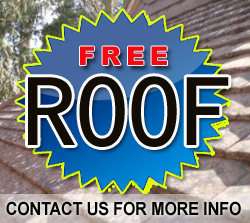 OUR FREE ROOF PROGRAM…

Hail damage replacement specialists.
We negotiate directly with your insurance company
to get the full amount of your claim
and to get your roof replaced promptly ad in
many cases, at no cost to you. Contact Us.
0